March Meeting - Ready When Disaster Strikes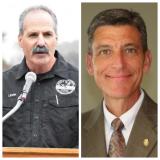 PRESENTER: Robert Lewin and Garret Olson
Tuesday, March 10, 2020
11:30a - 1:00p
After the Montecito Debris Flow, Robert Lewin and Garret Olson, who were leading the disaster effort, formed Resolute Associates to help organizations like yours build comprehensive emergency plans and then ensure when an emergency strikes the organization is prepared to implement the plan.
Small or large, emergencies can bring down an organization and destroy all it has achieved--are you ready?
All emergencies cannot be stopped, but through planning and preparation you can minimize their impact and even grow from the experience.
Don't miss this engaging presentation, taught by experts, to learn what you can do in your role as a Human Resources professional to be ready when disaster strikes.
Garret Olson, a second-generation Firefighter and Fire Chief, began his fire service career in 1988 as a paid-call firefighter with the Fire Department in Orange County, California. In 1990, Olson was hired as a 9-1-1 dispatcher for the Fire Department in Long Beach, California. He joined the Fire Department in Mesa, Arizona, later that same year and held the positions of Firefighter, Fire Engineer, Fire Captain, Battalion Chief, and Deputy Fire Chief. He was a certified Paramedic and Technical Rescue Technician. In 2001, Olson was deployed to New York City to assist with recovery from the September 11 terrorist attacks, serving as the government liaison between the City and the American Red Cross.
In 2004, Olson was recruited to join the City of Scottsdale, Arizona, in building its new municipal fire department. Putting his Master of Arts in Organizational Management to work, Olson served as the Incident Commander for this multi-department, multi-jurisdictional organizational transition that brought the newly formed 240-member Scottsdale Fire Department to existence. Olson served as Deputy Chief of Training & Special Operations and Deputy Chief of Field Operations before being promoted to Fire Chief in 2011. During his tenure as Fire Chief, Olson was proud to lead efforts to initiate changes in Department staffing and deployment, strategic planning, organizational culture, and the Department's community-focused mission.
In 2012, Olson returned to his home state of California to become the first ever Deputy Chief in the long-established San Luis Obispo City Fire Department. For the previous 138 years, San Luis Obispo City Fire did not have a second-in-command to the Fire Chief. Bringing this new position to life in a Department steeped with tradition was an exciting opportunity. In 2013, Olson was then selected to lead the San Luis Obispo City Fire Department as its Fire Chief where he implemented the Department's first strategic plan, brought online significant technology and apparatus enhancements, enhanced internal communications, and connected the Fire Department with the community with great care. Olson has presented his thoughts on leadership and service at regional and international conferences and symposiums.
Olson retired from the fire service in October 2018 to pursue opportunities to serve engaged communities seeking smart, creative, sustainable plans for their future. As a consultant, Olson has helped communities develop actionable strategic and operational plans as well as analyze and learn from catastrophic WUI fire experiences.
Robert Lewin began his career with the fire service at the age of seventeen as a Cal Poly student firefighter. Through his career he has persevered and prevailed through experiences and challenges that he could have never imagined. The most important aspect of his tenure is the consistent importance of service to community and to the people he has commanded and led. As the CAL FIRE/San Luis Obispo County Fire Chief, and then as the Director of the Santa Barbara County Office of Emergency Management (OEM), Lewin served and interacted with executive bodies, including boards of supervisors, city councils, local community service districts, county advisory councils, planning commissions, and other organizations. Lewin has authored and presented ordinances and resolutions, staff reports on fire code interpretations, and challenging budget documents and adjustments.
An accomplished public speaker with a background in government and media relations, Lewin has spoken at press conferences and community meetings, briefed dignitaries, such as the Governor and State Senators, presented at a variety of conferences, and published several articles. As a Type 1 Incident Commander he has successfully commanded emergency incidents with over 3,000 firefighters and other responders. Command and leadership roles have required Lewin to lead and manage high profile incidents in which lives were lost, hundreds of homes destroyed, and thousands of citizens evacuated.
With extensive relevant experience, advanced training, and strengths encompassing budget administration, innovation, communication, emergency management, collaboration, and leadership, Lewin is a well-rounded leader-manager who effectively allocates resources, coordinates operations, and motivates dedicated individuals to succeed.
Leaving government service in spring of 2019, Lewin is now committed to consolidating his experience and applying his effort to protecting people in a world that is challenged by an increased threat from wildfire.
Regular - Thyme and Basil Chicken with baby red potatoes and green salad
Vegetarian – Grilled Portabella Mushroom with green salad
Dessert – Boysenberry Cobbler
Please note the Madonna Inn does not allow outside food.
Meeting Locaton:
Garden Room
Madonna Inn
100 Madonna Road
San Luis Obispo, CA 93401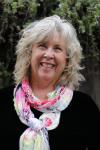 Spotlight Speaker
Speaker: Julie McAbee
Julie McAbee is an Ergonomics/Injury Prevention Consultant. Julie graduated from Cal Poly SLO, where she earned a BS degree in Kinesiology and a California Teaching Credential. She has 20+ years in the field of Ergonomics with 13.5 years as the Manager of the Ergonomics Program at University of California, Santa Barbara.
Julie utilizes all of her skills to help educate workers on how to prevent injury. In both office and non-office work environments, she teaches workers proper posture/body mechanics, back care/lifting techniques, recommends equipment, educates worker on how to interface with equipment, interfaces with vendors, designs workspace and provides exercises to support all of the above.
Come learn in 5 minutes how to sit in your chair correctly and how to interface with your cell phone minimizing your risk of injury.
Register: Click Here
April Meeting - How Great Leaders Build Trust Through Communication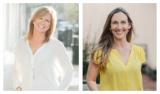 PRESENTER: Lynne Biddinger & Jennifer Porcher
Tuesday, April 14, 2020
11:30a - 1:00p
Improve the quality of everyday communication in ways that build trust, relationships, and dynamics within teams. Learn the two most important behaviors needed to build trust inside our organization.
Lynne Biddinger is an entrepreneur, business coach, mindfulness and leadership trainer, and co-founder of Unlock Potential (UP), a Leadership Training and Development company focused on teaching the soft skills of business to help people and organizations become greater versions of themselves.
Jennifer Porcher is co-founder of Unlock-Potential (UP), a business consultant and leadership trainer who has a passion for building leadership skills within organizations.
Regular – Roast Sirloin of Beef, with Au Gratin Potatoes and Green Salad
Vegetarian – Three Cheese Tortellini with Alfredo sauce with green salad
Dessert – German Chocolate Cake
Please note the Madonna Inn does not allow outside food or drink
Meeting Locaton:
Garden Room
Madonna Inn
100 Madonna Road
San Luis Obispo, CA 93401
Register: Click Here
May Meeting - Mediation/Arbitration- what is the hot seat like?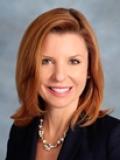 PRESENTER: Mollie Burks
Tuesday, May 12, 2020
11:30a - 1:00p
Mollie Burks is a partner in the San Francisco and Los Angeles offices of Gordon Rees Scully Mansukhani and a member of the Labor and Employment Practice Groups.
Ms. Burks specializes in litigating complex multi-plaintiff and class action wage and hour cases in state and federal court. She is among a small group of lawyers who has taken a wage and hour class action case to trial in California Superior Court. She also handles litigation involving claims of wrongful discharge, discrimination, harassment, and retaliation.
Ms. Burks' practice also includes providing advice and counseling to employers, including auditing workplace practices, drafting polices and employee handbooks, and presenting on current trends in labor and employment law.
Ms. Burks' industry experience is broad, as she has represented companies in the technology, security, service, manufacturing, health, retail, hospitality, education, and entertainment sectors.
Regular – Sundried Tomato Chicken with rice pilaf and green salad
Vegetarian – Buffalo Chickpea Sandwich (Hummus, chickpeas, green onion, carrots, cabbage, celery, jalapeno, Franks red hot sauce) with green salad
Dessert – Banana Cream Pie
Please note the Madonna Inn does not allow outside food.
Meeting Locaton:
Garden Room
Madonna Inn
100 Madonna Road
San Luis Obispo, CA 93401
Register: Click Here