September Meeting - Insights into the District Attorney's Office -
Including Victim Witness Services and Human Trafficking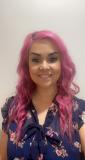 PRESENTER: Divina Diaz
Tuesday, September 13, 2022
11:30a - 1:00p
Learn about how a case gets to the District Attorney's Office, victim witness services, what human trafficking is and what you can do as a member of the community.
Mission statement:
The San Luis Obispo County Victim Witness Assistance Program works to reduce the trauma, frustration and inconvenience experienced by victims, witnesses, and family members affected by crime. We do this by providing a wide variety of services to victims of crime and their families, in addition to supporting victims and witnesses throughout the criminal justice process.
For the past 8 years Divina Diaz has been working for the County of San Luis Obispo District Attorney's Office Christopher G. Money Victim/Witness Assistance Center as an Advocate. Divina is a member of the Human Trafficking Task Force in San Luis Obispo County and Santa Barbara County and has been assisting victims and survivors of crime and Human Trafficking for the past 9 years. She has assisted law enforcement for the past 3 years in Operation Reclaim Rebuild in disrupting human trafficking on the central coast and statewide. Before joining the District Attorney's Victim/Witness center, Divina was the Shelter Coordinator for Domestic Violence Solutions in Santa Barbara County for 3 years. Divina started her career as a Sheriff Explorer through the San Luis Obispo Sheriffs Explorers Program where she was given the opportunity to experience law enforcement firsthand. Divina enjoys making memories with her children and family, training her Doberman Pinscher puppy, event planning/decorating and horseback riding.
Menu:
Regular Meal: Croissant Sandwich chicken salad
Vegetarian Meal: Vegetarian Lasagna
Desert: Apple Cobbler
Please note the Madonna Inn does not allow outside food.
Meeting Locaton:
Garden Room
Madonna Inn
100 Madonna Road
San Luis Obispo, CA 93401
Register: Click Here
October Annual Conference -
Making a Difference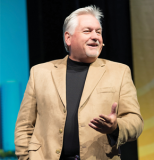 PRESENTER: Steve Gilliand
Thursday, October 13, 2022
8:00a - 12:00p
https://www.hrcentralcoast.org/annual_conference.php
A member of the Speaker Hall of Fame, Steve Gilliland is one of the most in-demand and top-rated speakers in the world. Recognized as a master storyteller and brilliant comedian, he can be heard daily on SiriusXM Radio's Laugh USA and Jeff & Larry's Comedy Roundup. With an appeal that transcends barriers of age, culture and occupation—plus an interactive and entertaining style—Steve shows audiences how to open doors to success in their careers, their relationships and their lives. Presenting to over 250,000 people a year, more than two million have now heard him speak, with audiences encompassing 51 industries. Steve has the distinction of speaking in all 50 states and in 15 countries. As one newspaper stated, "Steve is what happens when the humor of a stand-up comic collides with the inspiration of a motivational speaker."
Breakfast Buffet
Meeting Locaton:
Alex Madonna Expo Center
120 Madonna Road
San Luis Obispo, CA.
Register: Click Here
November Meeting - Workers' Compensation
PRESENTER: Greg Cameron
Tuesday, November 8, 2022
11:30a - 1:00p
Mr. Cameron received his Juris Doctor Degree from Georgetown University in Washington D.C. Mr. Cameron works out of the Central Coast office and is local to the central coast region, having received his undergraduate degree from UC Santa Barbara. Mr. Cameron has been representing insurance carriers, self-insured employers and third-party administrators since 1997. This includes all aspects of defending Workers' compensation claims including the defense of 132a discrimination claims and allegations of serious and willful misconduct. Mr. Cameron is a Certified Specialist in Workers' compensation Law.
Regular Meal: Croissant Sandwich chicken salad
Vegetarian Meal: Vegetarian Lasagna
Desert: Apple Cobbler
Please note the Madonna Inn does not allow outside food.
Meeting Locaton:
Garden Room
Madonna Inn
100 Madonna Road
San Luis Obispo, CA 93401
Register: Click Here